Dark surrealism
Cinabr is a non binary visual artist and musician. They're navigating between Dark ambient Dungeon synth and electronica.
Dabbling with Renoise and Chiptune trackers, they're also exploring IDM and Glitch horizons.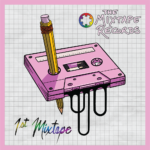 Cinabr participated to the label's 1st Mixtape and submitted two entries, very different from their usual dungeon synth. « Abstract Thoughts » and « Gr0c3v0 » pave the way for a new way for Cinabr to make music. With these experimental IDM tracks, they are testing new tools and adding randomness to the mix.
Listen to this amazing song right now on our Bandcamp page and grab the 1st Mixtape for 7€ or more.
They are currently working on a full album of experimental ambient music, to be released under the label's umbrella in the near future.